Stainless steel clad copper bars finished in time
Views: 22 Author: Site Editor Publish Time: 2016-07-21 Origin: Site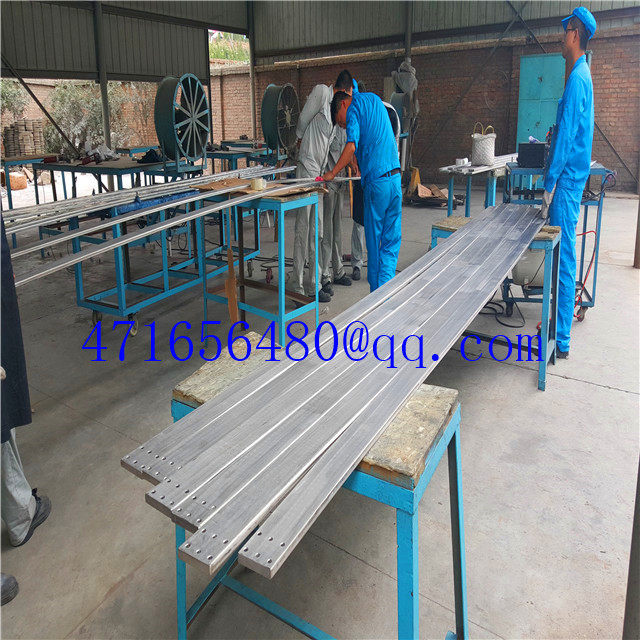 Stainless steel clad copper bars

Stainless steel clad copper bars is a copper bar cladding with a certain thickness of Stainless steel level, mainly used as a stand in plating, electrolysis, hydrometallurgy processes, because it has not only the original conductive property of the copper bar, but also protecting the copper bar from corroded by Stainless steel layer, therefore avoid the traditional copper bus bars shortcomings: danger and difficulty changing the anode metals, copper bar corrosion, heat generation caused by the electrical contact resistance in electrolysis and plating defects due to corroded and fallen copper compound, can greatly lower pollution of electrolyte.
As we know, the titanium (Ti) clad copper bar is the best choice for various kinds of strong acid and alkali electrolyte. However, in some weak acid or alkali electrolyte, we could select the 316L stainless steel clad copper bar in stead of the titanium clad copper bar due to its High cost performance.
Normally, we provide the first rate clad non-ferrous metal composites, mainly titanium clad copper and also including zirconium clad copper, 316L steel clad copper, titanium clad 316L steel plates, bars, tubes, composite wire, and multi-layer clad metal composites, etc.
Unsurpassed advantage performance of Titanium Clad Copper bus bar anode:
(1) Good Shear and tensile strength: The shear and tensile strength is tested and guaranteed in accordance with GB, ASTM, and JIS.
(2) Perfect Elongation and Ductility: Elongation and Ductility of cladding metal is guaranteed in face bend (=cladding metal in tension), and the ductility of base metal is guaranteed in reverse bend (=cladding metal in compression).
(3) Good Hardness: The bonded interface is slightly hardened after explosion bonding. The interface can be softened by heat treatment to an original level. There exists no difficulty in bending and drawing works
(4) Excellent electrical conductivity: explosions-rolling process of the production make titanium and copper composite close completely with no delamination and therefore has good electrical conductivity, the composite strength of 135Mpa, and micro-resistance for 7.77 × 10-6Ω
(5). Fantastic Corrosion Resistance: Explosion bonding, a clad processing, guarantees excellent corrosion resistance of clad materials.
(6) Great weldability for connecting, capping and joining
(7) High reliability; High conductivity; Biocompatibility; Weld ability; Cost effective.
Strict Products Inspections to ensue us to provide 100% stainless steel clad copper bars and other non-ferrous metals clad composite materials.
Our products 100% Ultrasound inspect and visual Test. Microstructure inspection, physical inspection, chemical composition analysis and other special test and inspection are carried out in independent labs.
Elegant group titanium and titanium alloy clad composites is the leader in the titanium industry. If you know the type clad composites you are interested in, you are kind to select it. When you are not sure which one you need, or would like to know more information, feel free to call us directly to discuss your particular requirement and we can help you decide which one is the best one.
Email: 471656480@qq.com
Skype: amazonzhang158888
Mobile: 0086-13516251207
T

itanium clad copper bus bar anode

/ composite bar/ rod specifications:

S

ection shape

S

ection

size(mm)

cladding

material

Substrate material

layer thickness

material




square

S

ide

length(

1

0-40)

1.0-2.

5

Ti,Zr,Ni,Stainless steel

T1,

T2,

TU1,

TU2,AL,

Stainless steel,

etc

rectangle

S

ide

length(

2

0-1

6

0)

side

width(10-30)

1.0-2.

5

drum

S

ide length

(25,27,29,32,34)*14

1.0-2.

5

round

Dia(8-50)

1.0-2.

5

wire material

Dia(2.0-8.0)

1.0-2.

5

Application:

wet metallurgy

,

Electroplating, electrolysis ,petroleum chemical industry,

E

lectric chemical industry

,

Energy engineering, ocean engineering,Surface treatment, electrode manufacturing

,

electro-purification, caustic soda electrolysis, and aluminum anodizing

,

Machining field,Automobile field, Desalination of sea water

,

Textile printing and dyeing

,

Mobile phone component field

,E

lectronic circuit board

,

PCB

,

print circuit makers and steel manufacturer

.